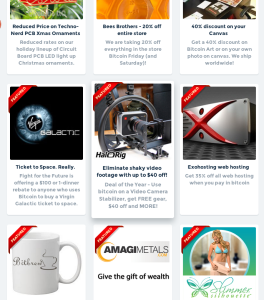 Over on BitcoinBlackFriday.com and Shopify.com there are tons of ways to spend your bitcoin this holiday season. Small Companies like HaloRig.com Video Camera Stabilizers are also offering deep discounts along with a further 10% off for those that use bitcoin. Merchants are jumping on the ability to accept payments via a faster and cheaper means, not to mention the likely potential for their bitcoin to appreciate before they have to spend it.
Support the local bitcoin community and buy at least one item with bitcoin this holiday season.
This year is the 1st year the bitcoin black friday concept has taken off in the mainstream media. Imagine what next year will look like. Hopefully we will see a litecoin black friday website in time for next holiday season as well.
If you have spent any of your BTC this weekend share it with the rest of us!