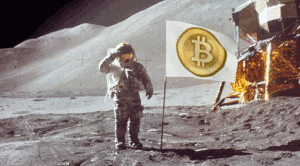 It's official, and it's getting picked up everywhere.
BBC, CNN and other mainstream media sites have covered this epic milestone of bitcoin hitting $1000.
Even though they try to put spin on bitcoin's recent developments by calling it "virtual" and "linked to illegal activity online", that hasn't stopped the growing interest in this crypto currency (and others like litecoin) for legitimate uses.
Coindesk article goes on to state: 
As with all freely traded instruments, the price of bitcoin is ultimately determined by supply and demand. Demand for bitcoins has been broadening based on measures such as the number of bitcoin wallets downloaded and the growing list of merchants joining the digital currency ecosystem.

On the supply side, the Fred Wilson-backed bitcoin startup Coinbase recently made headlines when it ran out of bitcoins. A squeeze in the supply of BTC available for purchase, particularly during periods of more frenzied trading we've seen of late, may also be putting upward pressure on the price. On the flip side, profit taking for holiday spending or other reasons may affect supply.
Honestly, some may say bitcoin has finally gone "to the moon", but I think this is just the start. There is still far less than 1% of consumers and retailers use bitcoin – just wait till that hits 10%.
It's not to late, get your Bitcoin in less than 10 minutes and start reaping the rewards of getting in early…