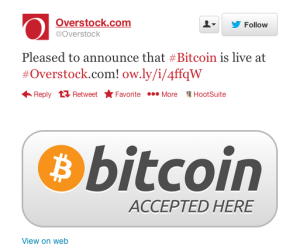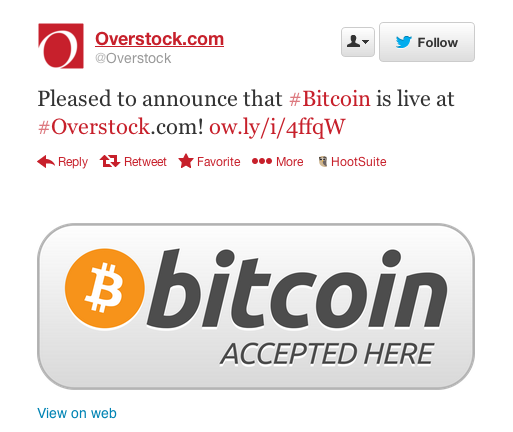 Confirmed by Overstock.com's tweet, they now accept the digital currency – Bitcoin!
Founded in 1997, Overstock.com has grown tremendously over the years by selling of a verety of store's over stocked items online. They boast revenues of over a billion dollars annually.
This is a huge shift in support for the Bitcoin protocol and with this type of news it only means good things for the value of bitcoin in the long run. With its frictionless transfer and inability to counterfeit, many other retailers have got their eye on bitcoin as well.
Just recently, local Michigan retailers have jumped aboard, accepting this digital currency in their shops and restaurants. While pundits in the mainstream media continue to squawk this week that bitcoin is not accepted at your local stores, we can see first hand that this argument will be short lived.
Once the market rallies behind Overstock.com, other retailers won't be able to resist the urge to take a piece of the pie.
9/10/13 Update:
The opening hours for Bitcoin on Overstock.com have very much been a success. Bitcoin supporters/owners have showed the market they want retailers to accept the new digital currency and willing to prove it.