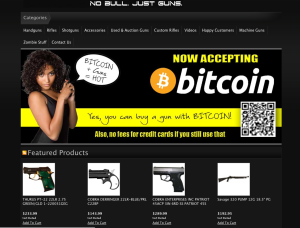 Yes it's true.
Ordering guns online has been around for a long time.. but those accepting bitcoin? not a chance, until now.  GunsUnder500, an online gun store selling guns under $500, is now accepting bitcoin as a payment for any of their online purchases.
Can anyone really say you can't buy anything with bitcoin anymore? Hardly.
This black friday saw over a 6000% increase in merchant transactions. The recent price increase in Bitcoin has really pushed many small and medium size businesses to adopt it as one of their payment methods. I mean why wouldn't you store your business savings in bitcoin if you can get 10 fold increases or higher.
Pretty soon you may just buy your gun designs with say 0.001 bitcoin and print them out at home, or is that here already too?