The ubiquitous soda of the 1980's and 1990's is giving it another shot and asks for fan support, even from the Bitcoin community.
(Richmond Hill, ON) Dec. 20, 2013, – Clearly Canadian, in keeping with the ever evolving digital age, is opening up its coming online pre-sales campaign to the global bitcoin community. "Online virtual currencies are clearly here to stay – no pun intended", according to Mitch Callahan, Clearly Canadian's Bitcoin Campaign Manager. "Just as Clearly Canadian pioneered the new age beverage industry in the '80s and '90s…bitcoin, in a much more profound way, is poised to change how we all transact business on a global scale. Clearly Canadian finds that truly exciting and we are proud to be a new emerging member of the bitcoin community."

[…] Having a globally recognized consumer brand such as Clearly Canadian join the bitcoin community is a powerful statement about the increasing popularity and growing base of bitcoin merchants and users. Many are watching the bitcoin market closely and we hope that this is the first of many established brands that see the benefits of adding bitcoins to their payment options. We are happy to have Clearly Canadian on board and wish the very best of success in its campaign," stated Tony Gallipi, CEO of BitPay.
Use this flyer to spread the word!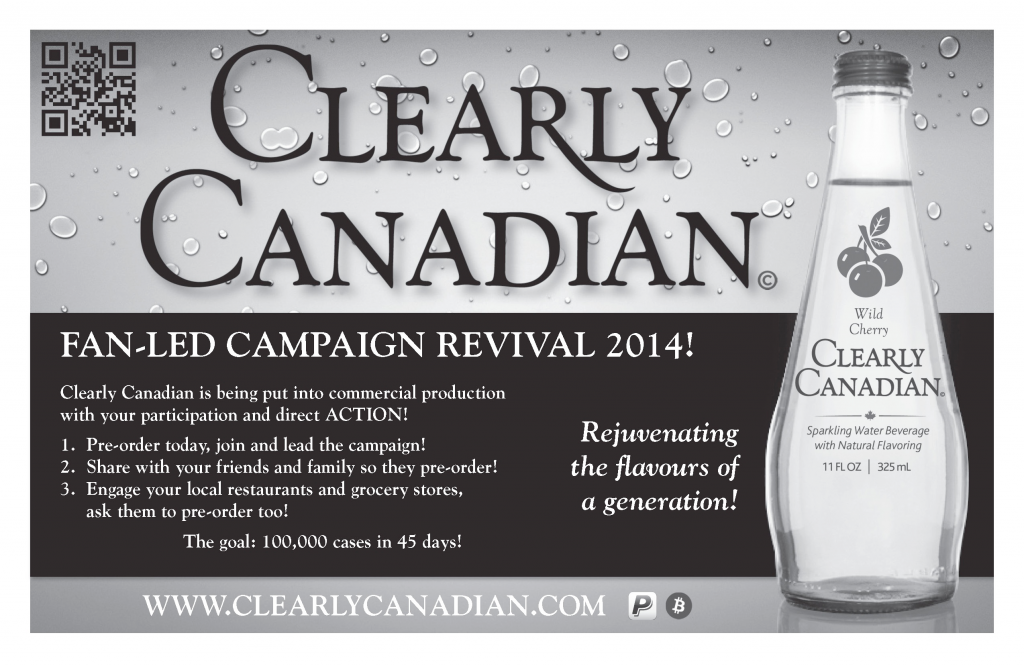 The full article here.