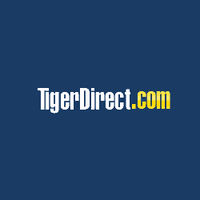 TigerDirect.com, a Systemax, Inc. subsidiary who boasts revenues of over $3.6 billion, now accepts bitcoin payments for online sales!
"We're excited to announce we now accept Bitcoin virtual currency. Bitcoin is an innovative payment network and a new kind of money. " says the new TigerDirect bitcoin page which was launched just hours ago.
Starting as a conversation over Coinbase on Jan 21st, an employee of TigerDirect informed me that they were working on accepting bitcoin, but I didn't think it would be completed only a few days later!

This makes the second major retailer to accept bitcoins along side of the other traditional means of payment. With Overstock's huge opening day for bitcoin sales, it's likely TigerDirect will stir up even more people that may be willing to seperate with a few mBits for something at their electronics mega store.
As you see I poked a little fun at Newegg and Amazon, who both have mentioned having their eye on the global all digital currency, Bitcoin.
See their page for more details: http://www.tigerdirect.com/bitcoin/
Reddit Comments: http://redd.it/1vyazz