Bitcoin, a digital currency circulated on the internet and functioning without the intermediation of a central authority, has drawn controversy over its status as an emerging currency or as a potential bubble economy since 2009.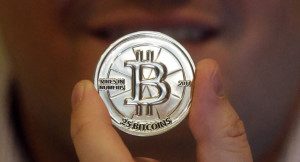 The former chief technology officer of the Chinese-language online social reading platform Docin, Xu Mingxing, believes bitcoin "is a social experiment." He is willing to risk losses by investing in the currency, he said.
Xu was not aware of bitcoin until late 2011, when he heard of the rise of the internet currency when it was mentioned on the American television drama The Good Wife, he told Guangzhou's 21st Century Business Review magazine. At the time, he had been trying to start a new business after leaving Docin.
During his research into a new venture, Xu became interested in bitcoin, which use peer-to-peer technology, with no central authority or banks acting as intermediaries, making the currency unlike any other currency in the world. Bitcoins cannot be controlled or mass produced by any institute or individual because they are produced through a special calculation system, Xu noted.
Rest of the article here: http://www.wantchinatimes.com/news-subclass-cnt.aspx?id=20131119000017&cid=1202